Oh Mateo! All Aboard with Five Lolas (Big Book Edition)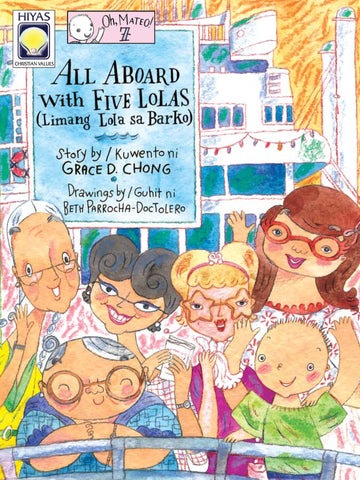 Oh Mateo! All Aboard with Five Lolas (Big Book Edition)
ISBN: 9789710099450
Weight: 0.226 kg
Description:
Written by Grace Chong
Illustrated by Beth Parrocha-Doctolero
(Note: This book is written in English with parallel Filipino text)
Follow the adventures of endearing 6-year-old Mateo, a farmer's son from Umingan, Pangasinan. Teo meets odd people and stumbles into strange situations, but in every encounter his admirable character shines through. Teo's example inspires children to love God and others in everyday life. Teo is riding a ship for the first time and his five lolas are going with him! Five grandmothers? Yes, five! In this adventure at sea, Teo gets caught in more mishaps than he can count his lolas.

This Hiyas book is published in a bigger size ideal for read-aloud sessions.

FEATURES AND BENEFITS

• Big books help in developing a child's reading skills and word recognition.
• Hiyas books are written in parallel English and Filipino to develop children's literacy in both languages.
• Hiyas books are in full color to engage young readers with beautiful art and illustrations.

Specifications
Size: 12 x 15.75 inches
Weight: 0.09 kg
Pages: 32 (excluding cover)
ISBN: 9789710099450
Format/Binding: Saddle Stitched
Target readers: 6 years old and above
Shipping and Delivery:
Products are shipped around 3-5 business days in Metro Manila, and 5-7 business days outside Metro Manila, upon payment confirmation.
Weekends and Holidays not included.
Related products