Yes! You Really Can Change: What to Do When You're Spiritually Stuck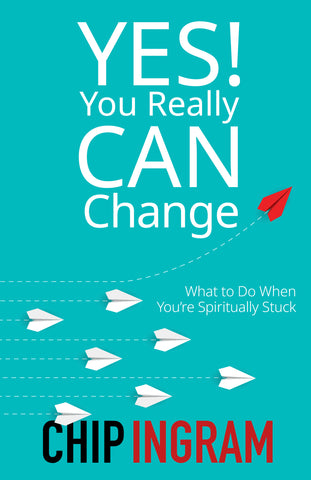 Yes! You Really Can Change: What to Do When You're Spiritually Stuck
ISBN: 9789710099412
Weight: 0.25 kg
Description:
Yes! You Really Can Change teaches radical life-change and how it
happens in real life. Rooted in the New Testament, it explains
God's supernatural transformation process, and how we can
become who Jesus saved us to become.
If God changes lives, why is mine stuck in the mud?
We all want life change, but achieving it is hard. As Christians, we
know we've got God's help. Jesus has made it possible. The Holy
Spirit even lives inside us! And yet, too many Christians are stuck
in the mud when it comes to life change. What's going on? Can
things ever get better? Can my life ever turn the corner?

Pastor Chip Ingram's answer is simple: Yes, you really CAN
change! With godly wisdom and practical advice drawn straight
from Scripture, Chip will help you answer questions such as:

 Why do so many Christians change so little?
 Where do we get the power to change?
 How do you know when you're really changing?
 How do you break out of a destructive lifestyle?
 How do you make it last?

In Yes, You Really CAN Change, you'll learn the difference
between living for God's approval and from God's approval. It's
time to get off the hamster wheel of Christian expectations. Only
when you understand your full acceptance by a loving God can
life change begin to happen.
Shipping and Delivery:
Products are shipped around 3-5 business days in Metro Manila, and 5-7 business days outside Metro Manila, upon payment confirmation.
Weekends and Holidays not included.
Related products