Good to Great in God's Eyes Revised and Updated: 10 Practices Great Ch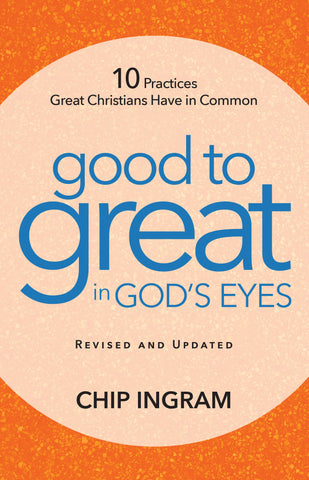 Good to Great in God's Eyes Revised and Updated: 10 Practices Great Christians Have in Common
ISBN: 9789710099405
Weight: 0.3 kg
Description:
Good to Great in God's Eyes provides the practices, not the
theory, that great Christians have in common. It provides
practical steps to help readers attain a greater measure of
Christlikeness and usefulness.

Do you want to be a "good" Christian or a "great" Christian?
Good Christians live the life. Great Christians leave a legacy. If
you're ready to take your faith to the next level, this book is for
you.

Using Scripture, personal stories, and examples from Christians
who left an indelible mark on the world, bestselling author Chip
Ingram offers you practical steps for becoming great in all areas
of life--in spiritual growth, family, relationships, and career. He
shows how a believer can become great in God's eyes by applying
the ten common characteristics of great Christians, who
think great thoughts
read great books
pursue great people
dream great dreams
pray great prayers
take great risks
make great sacrifices
enjoy great moments
empower great people
develop great habits
This revised and updated edition includes helpful discussion
questions to facilitate group or individual study as you strive to
live a life of great faith and excellent work.
Shipping and Delivery:
Products are shipped around 3-5 business days in Metro Manila, and 5-7 business days outside Metro Manila, upon payment confirmation.
Weekends and Holidays not included.
Related products