Things I Wish I'd Known Before We Became Parents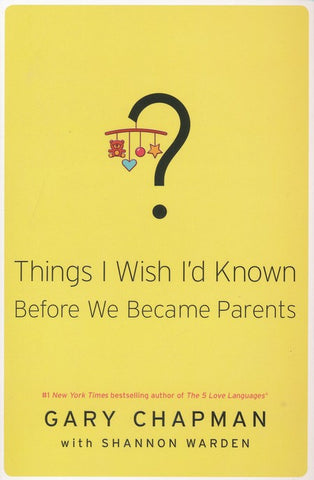 Things I Wish I'd Known Before We Became Parents
ISBN: 9780802414748
Weight: 0.0 kg
Description:
Inside, you'll find stories and practical advice on everything from potty training and boundaries to your child's education and keeping your marriage strong. Each chapter focuses on a specific parenting topic and concludes with a "Talking It Over" section consisting of questions for parents to discuss with one another. If possible, read this book before the baby comes and then refer to it again as you experience the joys and challenges of rearing children.
Co-authored by Gary Chapman and Shannon Warden, Things I Wish I'd Known Before We Became Parents, combines the wisdom of counselor and author Dr. Gary Chapman with Dr. Shannon Warden, the mother of three young children and a counseling teacher.
Title:

 

Things I Wish I'd Known Before We Became Parents
By:

 

Gary Chapman, Shannon Warden
Format:

 

Paperback
Number of Pages:

 

197
Vendor:

 

Moody Publishers
Publication Date:

 

2016

Dimensions:

 

8 X 5.2 X 0.5 (inches)
Weight:

 

8 ounces
ISBN:

 

0802414745
ISBN-13:

 

9780802414748
Stock No:

 

WW414748
Shipping and Delivery:
Products are shipped around 3-5 business days in Metro Manila, and 5-7 business days outside Metro Manila, upon payment confirmation.
Weekends and Holidays not included.