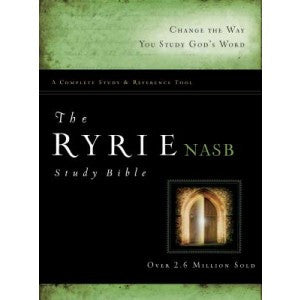 NASB The Ryrie Study Bible (Hardcover)
ISBN: 9780802484697
Weight: 1.3 kg
Description:

"The Bible is the greatest of all books; to study it is the noblest of all pursuits; to understand it the highest of all goals."- Dr. Charles C. Ryrie
Regardless of how many Bibles you may already have, a study Bible is a must if you intend to deepen your understanding of God, His character, His methods, and His commands.
The Ryrie NASB Study Bible (1995 New American Standard Lockman Foundation translation) is purposely designed to keep the focus on God's Word, the 10,000 explanatory notes are written to enhance, not comment on Scripture.
Whether you are a new believer or a mature Christian, Dr. Ryrie includes helpful articles to further your knowledge of the Bible.
Features
Helpful articles by Dr. Ryrie's to further your knowledge of the Bible
Wider margins allow you to add your thoughts, notes, and insights
In-text supporting maps, charts, timelines, and diagrams
16 full-color maps
8-page historical timeline
Thorough topical index
Comprehensive concordance
Words of Jesus in red
Presentation page
9-point text
9.50" x 7.00" x 1.50"
Product Information
Title:

 

Ryrie NAS Study Bible Hardback, Red Letter
By:

 

Charles C. Ryrie
Format:

 

Hardcover
Number of Pages:

 

1880
Vendor:

 

Moody Publishers
Publication Date:

 

2012
Dimensions:

 

9.50 X 7.00 X 1.50 (inches)
Weight:

 

3 pounds 1 ounce
ISBN:

 

0802484697
ISBN-13:

 

9780802484697
Text Layout:

 

Wide Margin

Text Color:

 

Red Letter
Text Size:

 

9 Point
Note Size:

 

7 Point
Thumb Index:

 

No
Ribbon Marker:

 

Yes
Spine:

 

Glued
Page Gilding:

 

None
Page Edges:

 

White
Stock No:

 

WW484697
Imprintable:

 

Yes
Shipping and Delivery:
Products are shipped around 3-5 business days in Metro Manila, and 5-7 business days outside Metro Manila, upon payment confirmation.
Weekends and Holidays not included.