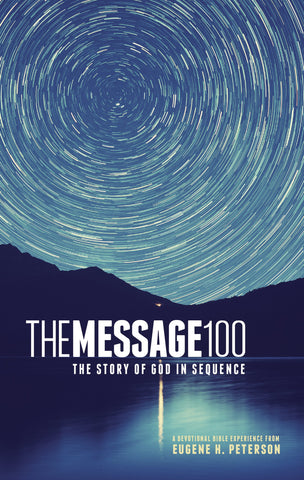 The Message 100 Devotional Bible (Softcover)
ISBN: 9781631464461
Weight: 0.357 kg
Description:
What moves you?
Beauty?
"God looked over everything he had made; it was so good, so very good!" (Genesis 1)
Worry?
"It's wonderful what happens when Christ displaces worry at the center of your life." (Philippians 4)
Injustice?
"God was moved to compassion when he heard their groaning." (Judges 2)
Suffering?
"Deeply moved, Jesus touched their eyes. They had their sight back that very instant." (Matthew 20)
The Bible tells a story about moving―people moving from place to place, from good times to hard times to good times again. But more than anything, it's a story of a God who is moved by love, and who moves―and who moves us―to make the world a better place.
Here in The Message 100 is the whole Bible―every single, moving word of it―laid out in 100 readings and arranged to reflect the unfolding story. Move through it at your own pace, and discover how God may be moving right there on the page, right here in your life.
Shipping and Delivery:
Products are shipped around 3-5 business days in Metro Manila, and 5-7 business days outside Metro Manila, upon payment confirmation.
Weekends and Holidays not included.