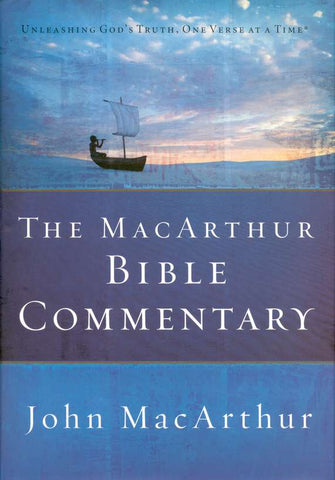 The MacArthur Bible Commentary
ISBN: 9780785250661
Weight: 1.7 kg
Description:
A crowning achievement from one of America's leading Bible teachers! Bringing the same expositional skill and down-to-earth style to this one-volume commentary as he has to his best-selling multivolume New Testament set, John MacArthur offers a non-technical passage-by-passage examination of the whole Bible.
Includes:

A general introduction to each major division of the Bible
A short introduction covering author, date, time, and setting for each book of the Bible
Each introduction also includes discussion of God's character, how Christ is seen, key doctrines, key words, key people, and key Scripture passages that represent the "theme core" of each book of the Bible
A harmony of the historical books of 1 and 2 Samuel, 1 and 2 Kings, and 1 and 2 Chronicles
A harmony of the Gospels
Articles providing an overview of theology, the ministry of Jesus, the ministry of the apostles, and the progress of revelation
Cross-references to The MacArthur Bible Handbook as an alternate source for more in-depth treatment
Product Information
Title: The MacArthur Bible Commentary
By: John MacArthur
Format: Hardcover
Number of Pages: 2040
Vendor: Thomas Nelson
Publication Date: 2005
Dimensions: 9.75 X 6.75 X 2.75 (inches)
Weight: 3 pounds 11 ounces
ISBN: 0785250662
ISBN-13: 9780785250661
Shipping and Delivery:
Products are shipped around 3-5 business days in Metro Manila, and 5-7 business days outside Metro Manila, upon payment confirmation.
Weekends and Holidays not included.