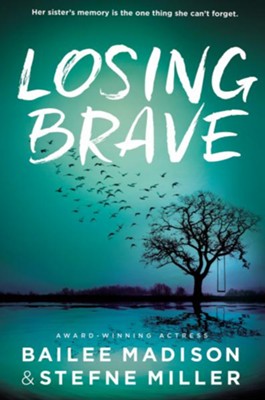 Losing Brave (SALE ITEM)
ISBN: 9780310760665
Weight: 0.28 kg
Description:
*DISCLAIMER: Please note that this is a sale item and may have some slight dents, faded and folded paper and cover.
In
Losing Brave
by Bailee Madison and Stefne Miller, more than a year has passed since seventeen-year-old Payton Brave's twin sister went missing; and Payton, in her desperate attempt to hold on to what's left of Dylan's memory, is starting to crack. Lost in the mystery and turmoil of her sister's disappearance, Payton must overcome the aftermath of being the one left behind. She's unable to remember even the smallest piece of what happened the day Dylan vanished. When sudden and reckless outbursts throw her from the graces of popularity to the outskirts of high school society, her new status attracts a crowd of friends she never anticipated---including a troubling romance with her sister's boyfriend, Cole.
New clues unearth about the circumstances of her disappearance when another missing girl's body is recovered from a nearby lake, the victim's features eerily similar to Dylan's. The more Payton pries open the clenches of her blocked memories, yielding to her need to know what happened, the further down the path of danger she goes. The darkness around her sister's disappearance grows and the truth becomes more and more unbearable. And what she finds might just cost her her life. Softcover edition.
Product Information
Title:

 

Losing Brave
By:

 

Bailee Madison
Format:

 

Paperback
Number of Pages:

 

352
Vendor:

 

Zondervan
Publication Date:

 

2019

Dimensions:

 

7.17 X 4.71 (inches)
Weight:

 

10 ounces
ISBN:

 

0310760666
ISBN-13:

 

9780310760665
Ages:

 

13-17
Shipping and Delivery:
Products are shipped around 3-5 business days in Metro Manila, and 5-7 business days outside Metro Manila, upon payment confirmation.
Weekends and Holidays not included.