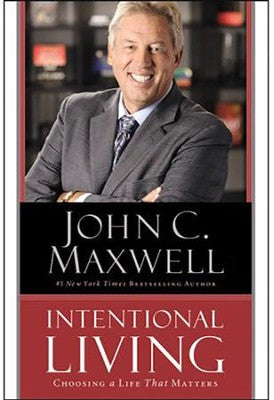 Intentional Living: Choosing a Life That Matters
ISBN: 9781455548170
Weight: 0.48 kg
Description:
Many people believe they have to dream up an amazing idea, be a certain age, have lots of money, or be powerful or famous to make a real difference. Drawing on his personal experiences, Maxwell reveals that the only thing necessary to creating a lasting legacy is to be intentional. Get started today!
Product Information
Title:

 

Intentional Living: Choosing a Life That Matters
By:

 

John C. Maxwell
Format:

 

Hardcover
Number of Pages:

 

304
Vendor:

 

Center Street
Publication Date:

 

2015

Dimensions:

 

9 X 6 (inches)
Weight:

 

1 pound 1 ounce
ISBN:

 

1455548170
ISBN-13:

 

9781455548170
Shipping and Delivery:
Products are shipped around 3-5 business days in Metro Manila, and 5-7 business days outside Metro Manila, upon payment confirmation.
Weekends and Holidays not included.