How to Understand the Bible Correctly (Revised Edition)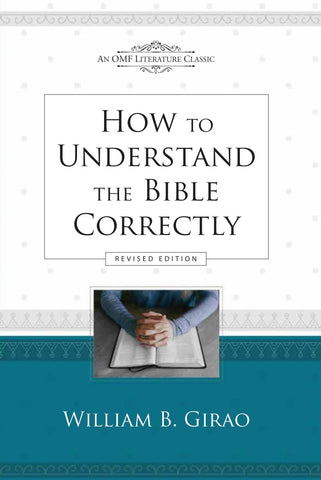 How to Understand the Bible Correctly (Revised Edition)
ISBN: 9789710099139
Weight: 0.2 kg
Description:
Through more than 20 years, How to Understand the Bible Correctly has been helping Christians—both new and seasoned—gain a deeper understanding of God's Word. The book teaches readers general principles on how to interpret the Bible and understand various types of literature in the Scriptures. An "OMF Lit Classic," the book has been revised to include a new section on applying principles of correct interpretation of the Bible.
In How to Understand the Bible Correctly, you will learn:
How to interpret Scriptures according to context and original meaning

When to interpret Scriptures literally 

How to understand verses in harmony with the general teaching of the Bible

How to understand the Psalms, Proverbs, and parables

How to study four frequently misinterpreted Bible passages
"What I have written had been distilled from more than 60 years of studying and teaching the Bible…These principles and guidelines would be helpful to you who preach and teach the Word of God, particularly…pastors who have had no opportunity to train in seminary." —From the Author's Introduction
Shipping and Delivery:
Products are shipped around 3-5 business days in Metro Manila, and 5-7 business days outside Metro Manila, upon payment confirmation.
Weekends and Holidays not included.
Related products