Go Small: Because God Doesn't Care About Your Status, Size, or Success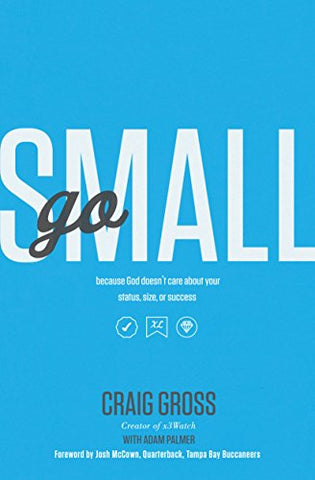 Go Small: Because God Doesn't Care About Your Status, Size, or Success (SALE ITEM)
ISBN: 9781400205325
Weight: 0.22 kg
Description:
*DISCLAIMER: Please note that this is a sale item and may have some slight dents, faded and folded paper and cover.

It is in the seemingly ordinary moments of life where God does his greatest work.
Go big or go home . . . so they say. But do you ever feel like no matter how big you go, you still haven't gone big enough? Have you grown so frustrated with the pursuit of "go big" that "go home" is starting to look inviting?
Going big all the time is not only a recipe for burnout—it's not the way God works in your life. It's time to break free from "go big or go home." It's time to invest in stamina, to cultivate endurance, to recognize the miraculous world of the ordinary, little things.
Show the door to "go big or go home" thinking. Your ordinary life is miraculous. It's time to go small—and keep ongoing.
Shipping and Delivery:
Products are shipped around 3-5 business days in Metro Manila, and 5-7 business days outside Metro Manila, upon payment confirmation.
Weekends and Holidays not included.