FaithGirlz! Redo Your Room (Softcover)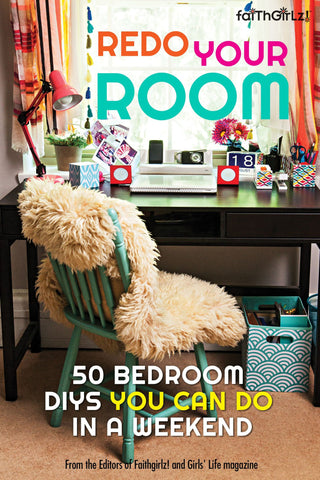 FaithGirlz! Redo Your Room (Softcover)
ISBN: 9780310746324
Weight: 0.295 kg
Description:
Whether you're looking for an all-out room redo or a few new tricks to brighten up your space, Faithgirlz! has tons easy how-tos and quick DIYs that'll morph your room into a true expression of y-o-u. Give your walls a burst of color (even without a bucket of paint!) and turn your fave pics and keepsakes into inspiring art. These floor-to-ceiling secrets help nix those piles of clothes decorating your space in favor of awesome add-ons, like mini murals and a magical ribbon chandelier (psst: we won't tell anyone it took you a half hour to whip up).

Redo Your Room is packed with cute and crafty ways to add pop to your domain. You'll learn how to make even the tiniest spaces into pretty places to sleep 'n' study, and clever ways to keep it all looking adorable. And the best part? You can make over your bedroom without going broke.
Shipping and Delivery:
Products are shipped around 3-5 business days in Metro Manila, and 5-7 business days outside Metro Manila, upon payment confirmation.
Weekends and Holidays not included.