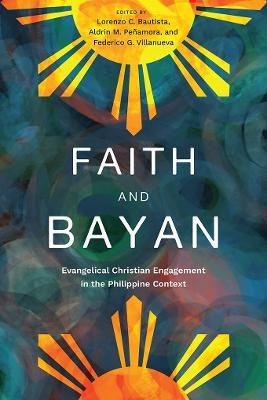 Faith and Bayan: Evangelical Christian Engagement in the Philippine Context
ISBN: 9781839732775
Weight: 0.24 kg
Description:
Edited by: Lorenzo Bautista, Aldrin Penamora, Federico Villanueva
When tyrants come to power and Christians remain silent, the church betrays its prophetic role in the public sphere. Far from withdrawing from social-political engagement, Christians must grow in boldness as they embody a just, righteous, and godly love for their country and its people.

In this collection of essays, Filipino evangelical theologians challenge the church's complacency in the face of oppressive regimes. Addressing the specific realities of President Rodrigo Duterte's administration, they draw on biblical studies, political theology, and ethics to provide a biblical and theological framework for Christians seeking to resist injustice in both the Philippines and beyond. Faith and Bayan is an excellent resource for students and leaders seeking an Asian evangelical perspective on Christian political engagement. It not only offers intellectual insight on the topic, but empowers its readers to fulfill a prophetic calling — to uphold democracy, peace, and human dignity.
Table of Contents
Preface
Introduction: Faith and Bayan
Worship and Justice

 

Federico G. Villanueva
"Act Justly, Love Mercy, Walk Humbly with God": Perspectives on Power and Politics from the Old Testament Prophetic Tradition

 

Annelle G. Sabanal
Romans 13 and the Limits of Submission

 

Junette B. Galagala-Nacion
Why the Church Needs to Learn How to Complain and Not Just "Trust and Obey"

 

Federico G. Villanueva
Duterte, Democracy, and Dissent

 

Roberto G. Barredo
Their Blood Cries Out from the Ground: An Ethic of

 

Malasakit

 

and the War on Drugs

 

Aldrin M. Peñamora
"Your Kingdom Come, Your Will be Done": Disclosing the Ethics of the New Testament's Parousia

 

Christopher D. Sabanal
Shepherding a Coalition for Justice

 

Carlo Diño
Epilogue
Shipping and Delivery:
Products are shipped around 3-5 business days in Metro Manila, and 5-7 business days outside Metro Manila, upon payment confirmation.
Weekends and Holidays not included.