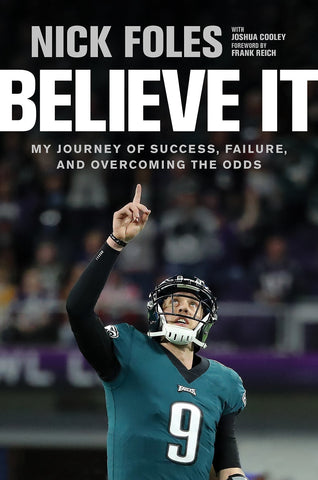 Believe It: My Journey of Success, Failure, and Overcoming the Odds (SALE ITEM)
ISBN: 9781496436498
Weight: 0.47 kg
Description:
When the Philadelphia Eagles' starting quarterback went down with a torn ACL in week 14 of the 2017 NFL season, many fans―and commentators―assumed the Eagles' season was over.

Instead, Nick Foles came off the bench and, against all odds, led the Eagles to their first Super Bowl victory in history.

How did Nick get it done―winning MVP honors, silencing the critics, and shocking the world? How did the man who was on the verge of retiring just two seasons earlier stay optimistic and rally the team to an astounding win? How did he stay ready despite numerous trades and discouraging injuries, able to step up in the moment and perform at the top of his game?

Believe It offers a behind-the-scenes look at Nick's unlikely path to the Super Bowl, the obstacles that threatened to hold him back, his rediscovery of his love for the game, and the faith that grounded him through it all. Learn from the way Nick handled the trials and tribulations that made him into the man he is today―and discover a path to your own success.
Shipping and Delivery:
Products are shipped around 3-5 business days in Metro Manila, and 5-7 business days outside Metro Manila, upon payment confirmation.
Weekends and Holidays not included.