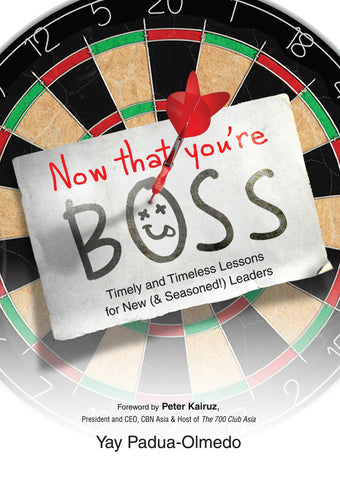 Now That You're Boss
ISBN: 9789710092949
Weight: 0.16 kg
Description:
LEAD WITH CONFIDENCE IN YOUR RACE TO THE TOP 
No way to go but up. It's your destiny, your calling! This book lays it all out: You're a sure winner--if you stick to your Creator's recipe for real success. A must-read for budding--even seasoned--bosses, "Now that You're Boss" is peppered with relatable examples of workplace situations and solution nuggets. The author expertly marries the Bible's timeless wisdom with simmering business concepts and trends, making this book a relevant, "fresh-from-the-oven" serving of easily digestible boss lessons. All these from Yay Olmedo's more than 30 years of navigating the corporate world's intricate corridors of power and intrigue--from the basement to its corner and penthouse offices; and as she continues to keep up with emerging business realities while teaching business subjects in an international university.
Shipping and Delivery:
Products are shipped around 3-5 business days in Metro Manila, and 5-7 business days outside Metro Manila, upon payment confirmation.
Weekends and Holidays not included.
Also available at:
Related products