What Is Saving Faith?: Reflections on Receiving Christ as a Treasure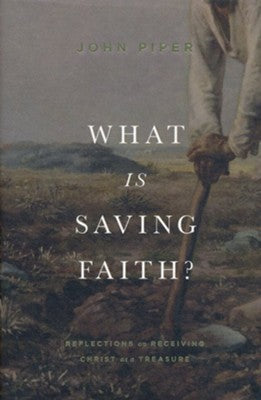 What Is Saving Faith?: Reflections on Receiving Christ as a Treasure
Description:
Is accepting Jesus strictly to escape judgment truly saving faith? Drawing from the Bible and church history, Piper argues that real conviction must include what he calls "the affectional dimension of treasuring Christ." Discover how, when we cherish God, our faith reaches its appointed goal: the perfections of Christ glorified by our being satisfied in him forever. 320 pages, hardcover from Crossway.
Title:

 

What Is Saving Faith?: Reflections on Receiving Christ as a Treasure
By:

 

John Piper
Format:

 

Hardcover
Number of Pages:

 

320
Vendor:

 

Crossway
Publication Date:

 

2022

Dimensions:

 

8.50 X 5.50 (inches)
Weight:

 

1 pound 1 ounce
ISBN:

 

1433578360
ISBN-13:

 

9781433578366
Stock No:

 

WW578366
Shipping and Delivery:
Products are shipped around 3-5 business days in Metro Manila, and 5-7 business days outside Metro Manila, upon payment confirmation.
Weekends and Holidays not included.