Vine's Complete Expository Dictionary of Old and New Testament Words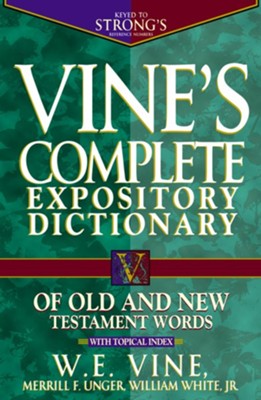 Vine's Complete Expository Dictionary of Old and New Testament Words
ISBN: 9780785260202
Weight: 1.8 kg
Description:
This classic word study resource allows you to study the meaning of biblical words in the original languages without spending years learning Greek or Hebrew.

A great resource for students, seasoned pastors, and anyone who enjoys biblical word studies--even if they have little to no formal training in Hebrew or Greek. Vine's Complete Expository Dictionary:

Contains over 6,000 key biblical words, describing word frequency, usage, and meaning as fully as possible.
Serves as a dictionary, commentary, and comprehensive topical concordance all in one volume.
Includes the widely used numbering system found in The New Strong's Exhaustive Concordance of the Bible.
Contains an introduction describing the history of the languages in which the Bible was written and other orientating data on how the modern Bible came about.
This classic reference tool has helped thousands dig deeper into the meaning of the biblical text and will enlighten Bible students to the riches of God's truth in Scripture, opening up God's word as it has never been opened before.
Product Information
Title: Vine's Complete Expository Dictionary of Old and New Testament Words
By: W.E. Vine, Merrill F. Unger, William White Jr.
Format: Hardcover
Number of Pages: 823
Vendor: Thomas Nelson
Publication Date: 1996
Dimensions: 9.50 X 6.50 X 2.50 (inches)
Weight: 3 pounds 15 ounces
ISBN: 078526020X
ISBN-13: 9780785260202
Shipping and Delivery:
Products are shipped around 3-5 business days in Metro Manila, and 5-7 business days outside Metro Manila, upon payment confirmation.
Weekends and Holidays not included.