Tyndale Bible Dictionary (Hardcover)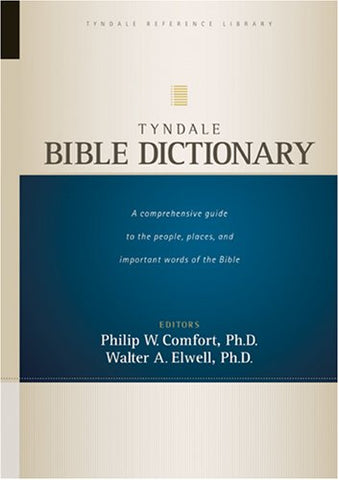 Tyndale Bible Dictionary (Hardcover)
ISBN: 9781414319452
Weight: 1.9 kg
Description:
The Tyndale Bible Dictionary includes all the significant people, places, and terms in the Bible. Also, you will find comprehensive articles on all the books of the Bible, significant words in the Bible, translations of the Bible, manuscripts of the Bible, and the canon of Scripture. Beyond this, there are articles on many different aspects of life and culture during Bible times. Key Bible themes, concepts, and difficult-to-understand subjects are addressed at length.
Editors:

Walter Elwell has been Professor of Bible and Theology at Wheaton College since 1975. He did graduate work in New Testament and early Christian history at Tubingen University in Germany and the University of Chicago. His doctoral work was done at New College, University of Edinburgh, Scotland.

Philip Comfort is senior editor of Bible reference at Tyndale House Publishers and adjunct professor of Religion at Coastal Carolina University. He has authored two commentaries on John and three volumes of poetry. He serves as the coordinating New Testament editor for the New Living Translation and he is the General editor for the Cornerstone Biblical Commentary series.
Title: Tyndale Bible Dictionary
By: Walter A. Elwell, Philip W. Comfort
Format: Hardcover
Number of Pages: 1352
Vendor: Tyndale House
Publication Date: 2007
Dimensions: 9.50 X 6.75 X 2.25 (inches)
Weight: 4 pounds 4 ounces
ISBN: 1414319452
ISBN-13: 9781414319452
Series: Tyndale Reference Library
Stock No: WW319452
Shipping and Delivery:
Products are shipped around 3-5 business days in Metro Manila, and 5-7 business days outside Metro Manila, upon payment confirmation.
Weekends and Holidays not included.