Turning Controversy into Church Ministry: A Christlike Response to Hom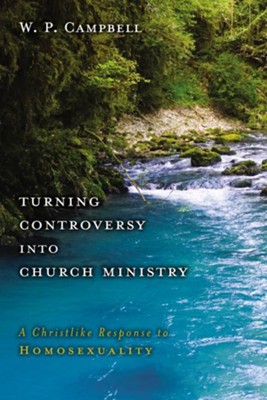 Turning Controversy into Church Ministry: A Christlike Response to Homosexuality (SALE ITEM)
ISBN: 9780310321323
Weight: 0.34 kg
Description:
Outreach to those who struggle with same-sex attraction is severely lacking in most churches. As a result, most Christians learn more about homosexuality from movies, the internet, television, and so-called diversity training than they learn in their own congregations. Many people who struggle with same-sex attraction are torn by the debate while yearning to hear the redemptive truth of the Bible and be touched by the unyielding love of Christ. Author Bill Campbell believes that Christians can have a significant positive influence on how the larger culture frames the issue of same-sex attraction. He combines twenty years of study with current surveys and research by national leaders of ministries to homosexuals.
Campbell packs his book with insights, tools, and practical guidelines for creating ministry in any size or type of congregation. Implementing these ideas not only helps bring Christ's presence to those with unwanted same-sex attractions, but also enables Christian congregations to become more relevant to a changing world. This book covers such topics as the nature/nurture debate, law vs. grace, and scripture's call to holiness. Readers are equipped with understanding and language to converse about each topic in a truthful, loving, and insightful manner. Likewise, Campbell suggests ways churches can build ministry in five critical areas: leadership training, preaching, support groups, mentoring/counseling, and outreach.
Turning Controversy into Church Ministry provides the right blend of information, practical steps for action, and guidelines for Christian renewal so that controversy about homosexuality can become the launch pad for vital ministry.
itle: Turning Controversy into Church Ministry: A Christlike Response to Homosexuality
By: W.P. Campbell
Format: Paperback
Number of Pages: 224
Vendor: Zondervan
Publication Date: 2010

Dimensions: 9.00 X 6.00 (inches)
Weight: 12 ounces
ISBN: 0310321328
ISBN-13: 9780310321323
Shipping and Delivery:
Products are shipped around 3-5 business days in Metro Manila, and 5-7 business days outside Metro Manila, upon payment confirmation.
Weekends and Holidays not included.