Turned Off by Church (SALE ITEM)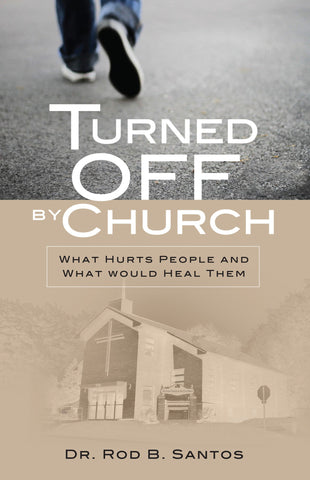 Turned Off by Church (SALE ITEM)
ISBN: 9789710092642
Weight: 0.18 kg
Description:
*DISCLAIMER: Please note that this is a sale item and may have some slight dents, faded and folded paper and cover.
People are leaving the churches. Why?
The number of evangelicals in the Philippines has not significantly increased despite the continued growth of mega-churches. Many Christians are leaving the church, having become either cynical or apathetic. Of those who remain, many drift towards mediocrity. In Turned Off by Church, Rod Santos tells the stories of Joshua, Alfred, Maureen, Hannah, Janice and Precy (not their real names), who have left the church in pain. Their stories expose what goes on in our churches and how they drive out those who seek to follow Christ. 
Pastor Rod also presents the possible cultural reasons why many Filipinos get disillusioned with their churches. From these, he presents biblical ways of helping the disappointed come closer to God and leading them back into God's community. 
Shipping and Delivery:
Products are shipped around 3-5 business days in Metro Manila, and 5-7 business days outside Metro Manila, upon payment confirmation.
Weekends and Holidays not included.