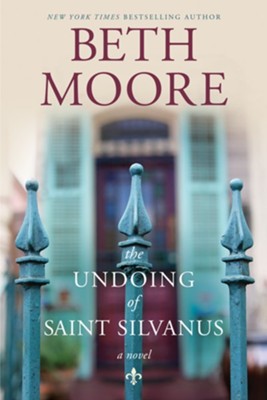 The Undoing of Saint Silvanus (SALE ITEM)
ISBN: 9781496416483
Weight: 0.68 kg
Description:
*DISCLAIMER: Please note that this is a sale item and may have some slight dents, faded and folded paper and cover.
The Undoing of Saint Silvanus is the first fiction book by the well-known American evangelist author Beth Moore.
Located in New Orléans, Saint Silvanus was originally built during the 1800s as a church and was later converted to an apartment complex now run by Jillian's estranged grandmother. While in town attending her father's funeral, she meets an eclectic group of tenants from the building. As strange things begin happening, she finds out her father was actually murdered. When relics from the building appear in new places, she considers that the building could be cursed. Now she can't leave until she finds out what is really going on.
Product Information
Title:

 

The Undoing of Saint Silvanus, Softcover
By:

 

Beth Moore
Format:

 

Paperback
Number of Pages:

 

480
Vendor:

 

Tyndale House

Publication Date:

 

2017
Weight:

 

1 pound 5 ounces
ISBN:

 

1496416481
ISBN-13:

 

9781496416483
Shipping and Delivery:
Products are shipped around 3-5 business days in Metro Manila, and 5-7 business days outside Metro Manila, upon payment confirmation.
Weekends and Holidays not included.
Related products