The Seven Longest Yards: Our Love Story of Pushing the Limits while Le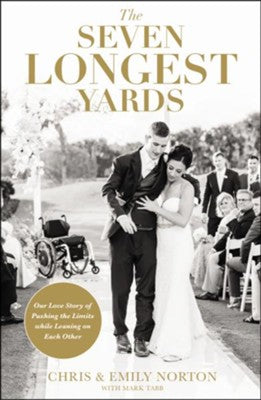 The Seven Longest Yards: Our Love Story of Pushing the Limits while Leaning on Each Other (SALE ITEM)
ISBN: 9780310356929
Weight: 0.42 kg
Description:
In a moment, Chris went from a talented 18-year-old college football player with a promising future to flat on his back with a broken neck and a 3% chance of ever moving or feeling anything below his neck, much less walking again. The life Chris dreamt of - including his hope for finding love - was shattered. At least, so he thought. Determined to prove the doctors wrong and to find love, Chris pushed himself through grueling, daily workouts until four years later, Chris walked across the stage to receive his college diploma, with Emily's help and the world's astonished applause.

Meanwhile, Emily faced her own challenges as she sunk into a deep battle against anxiety and depression. Despite a devoted fiance, a fulfilling career working with youth, and a strong faith, she couldn't shake the mental darkness that clouded their promising future.

Day by day, decision by decision, Chris and Emily committed themselves to taking the extra step, trusting God, and leaning on the help of others. In a story of unforgettable grit and courageous faith, this extraordinary couple's journey led them to ultimately tackle the longest seven yards together - down the wedding aisle and into a new life.

And what a new life it has become: as Chris and Emily have adopted five beautiful girls and welcomed seventeen (and counting!) foster children into their home and hearts. From their private struggles to shared blessings, their moving memoir told from both of their unique perspectives is your stirring invitation to put one foot in front of the other, especially in the face of the impossible. You might just find, as they have, that God can transform our lowest points into life's greatest gifts.
Shipping and Delivery:
Products are shipped around 3-5 business days in Metro Manila, and 5-7 business days outside Metro Manila, upon payment confirmation.
Weekends and Holidays not included.