The Real Skinny on Losing It: True Confessions and Divine Revelations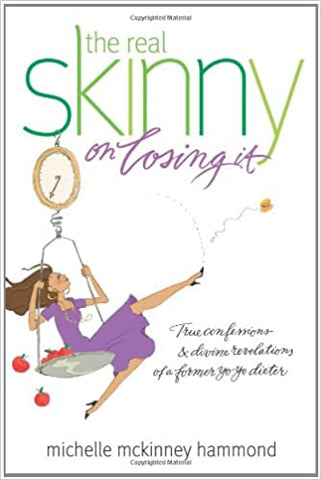 The Real Skinny on Losing It: True Confessions and Divine Revelations of a Former Yo-Yo Dieter (SALE ITEM)
ISBN: 9781414333830
Weight: 0.24 kg
Description:
*DISCLAIMER: Please note that this is a sale item and may have some slight dents, faded and folded paper and cover.
So many things contribute to women's struggles with weight that no matter what infomercials and celebrities promise on TV, it's never as simple as 1-2-3 to "get it off and keep it off."
That's because the real issue usually lurks beneath the surface―in a woman's heart and mind. No matter how many sit-ups, push-ups, or miles on the treadmill you do, you'll never see honest, life-changing results until you make peace with your inner self and the One who created you―take it from someone who's been there and back several times (and dress sizes!).
Filled with great tips, recipes, advice, and encouragement, The Real Skinny on Losing It is a hilarious and blatantly honest story of Michelle McKinney Hammond's own battle of the bulge and everything she's learned about fad diets, nutrition, exercise, self-esteem, and self-worth along the way. Trust us―this is the last diet book you'll ever need to buy!
Shipping and Delivery:
Products are shipped around 3-5 business days in Metro Manila, and 5-7 business days outside Metro Manila, upon payment confirmation.
Weekends and Holidays not included.