The One-Minute Counselor™ for Women (SALE ITEM)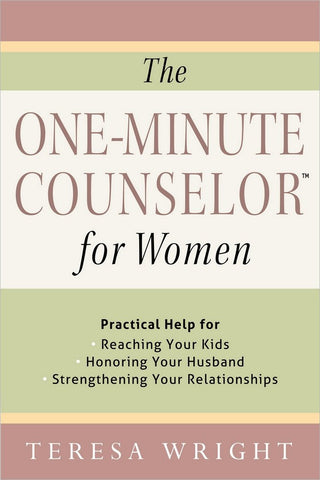 The One-Minute Counselor™ for Women (SALE ITEM)
ISBN: 9780736961080
Weight: 0.142 kg
Description:
*DISCLAIMER: Please note that this is a sale item and may have some slight dents, faded and folded paper and cover.
Need some help with your relationships? Feeling stressed from being pulled in a hundred directions? Hope there's more to life than constantly running to get things done? Known for her compassion and wisdom in helping women, Tess Wright offers real-life solutions for your everyday concerns and practical suggestions about being productive, experiencing peace, finding joy, and spending restorative time with God. She addresses issues that are important to you, including:

How can I stop comparing myself with other women?
My husband doesn't talk me. What can I do?
I enjoy shopping, but I'm spending too much money. Any suggestions?
My youngest son refuses to clean his room, and it's a disaster area. Something has to be done...but what?
I have too much to do! If I'm asked to do one more thing, I think I'll scream. Help!
The One-Minute Counselor for Women is perfect for quick general knowledge and yet detailed enough to help you address specific problems.
Shipping and Delivery:
Products are shipped around 3-5 business days in Metro Manila, and 5-7 business days outside Metro Manila, upon payment confirmation.
Weekends and Holidays not included.