The Insanity of Unbelief: A Journalist's Journey from Belief to Skepti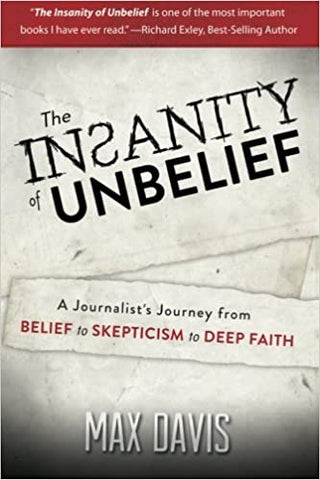 The Insanity of Unbelief: A Journalist's Journey from Belief to Skepticism to Deep Faith (SALE ITEM)
ISBN: 9780768441499
Weight: 0.32 kg
Description:
How Science and the Supernatural Changed My Life

"One day one of my professors asked me if it was true that I was a Bible-believing Christian. When I answered yes, his polite, upbeat attitude instantly turned rude and arrogant. In front of my peers, he insulted my intelligence, belittled my faith, and discredited the Bible. To him there was absolutely no doubt that science and academia had shown the pure 'insanity of such belief,'" writes author Max Davis.

Written from his journalistic point of view, The Insanity of Unbelief is a result of the author's 30-year walk from childlike belief, to skepticism, and finally deep, secure faith. The contents are based on his expert and thorough research of solid facts versus what many atheists, agnostics, and even some believers tout.

Different from other apologetic books is the addition of true, documented, supernatural experiences and miracles making a compelling—and exciting—argument for the reality and power of God!
Shipping and Delivery:
Products are shipped around 3-5 business days in Metro Manila, and 5-7 business days outside Metro Manila, upon payment confirmation.
Weekends and Holidays not included.