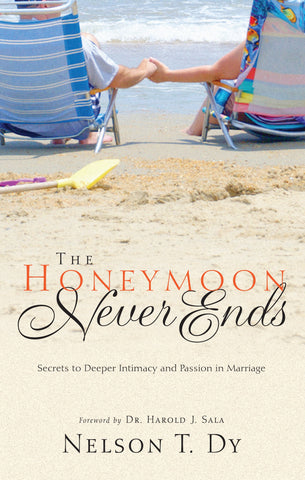 The Honeymoon Never Ends
ISBN: 9789710090389
Weight: 0.17 kg
Description:
A never-ending honeymoon? Is it even possible?

"I love Lucy!" is more than just the title of a 1950s TV show for Nelson Dy. It's an impassioned declaration of his deepening love for his darling wife Lucy. (You should hear him say it!) Years after their altar date, Nelson and Lucy's love for each other is sweeter and stronger than ever—as though they were on extended honeymoon. The secret? A marriage of three, not two.

In this sequel to How to Mend a Broken Heart, Nelson invites married ones—husbands, especially—to relive the intimacy and passion of their honeymoon. And to learn to make it a way of life. How? While many experts on marital intimacy suggest that it all starts in the bedroom, Nelson tells couples, "Begin with a Romantic God." Join Nelson in mining precious gems from the Bible for a marriage of deepening intimacy and passion. Learn practical ways to keep your love alive…

The Honeymoon Never Ends is a recipient of the 2012 Gintong Aklat (Golden Book) Award, Inspirational Category, from the Book Development Association of the Philippines.
Shipping and Delivery:
Products are shipped around 3-5 business days in Metro Manila, and 5-7 business days outside Metro Manila, upon payment confirmation.
Weekends and Holidays not included.
Related products