The Friendship Challenge: A Six-Week Guide to True Reconciliation--One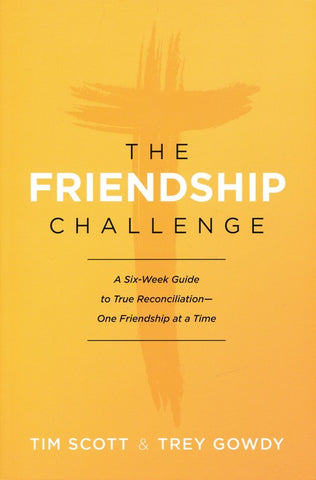 The Friendship Challenge: A Six-Week Guide to True Reconciliation--One Friendship at a Time (OM)
ISBN: 9781496430687
Weight: 0.02 kg
Description:
In 2016, Senator Tim Scott and Congressman Trey Gowdy began hosting a series of community roundtables, bringing together pastors, law enforcement officers, and administrators to discuss community relations and the similarities and differences among blacks and whites regarding their views of the criminal justice system. In
The Friendship Challenge
, they apply the lessons they learned and the principles they developed to provide a six-week guide to help individuals and churches promote reconciliation in their communities. Discover how to promote reconciliation--one friendship at a time.
Title:

 

The Friendship Challenge: A Six-Week Guide to True Reconciliation--One Friendship at a Time
By:

 

Tim Scott, Trey Gowdy
Format:

 

Paperback
Number of Pages:

 

128
Vendor:

 

Tyndale House
Publication Date:

 

2018

Dimensions:

 

8.25 X 5.50 (inches)
Weight:

 

4 ounces
ISBN:

 

1496430689
ISBN-13:

 

9781496430687
Stock No:

 

WW430684
Shipping and Delivery:
Products are shipped around 3-5 business days in Metro Manila, and 5-7 business days outside Metro Manila, upon payment confirmation.
Weekends and Holidays not included.