The First Hostage (J. B. Collins Book 2) [SALE ITEM]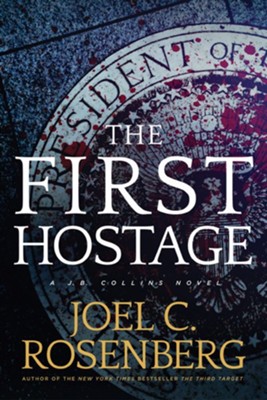 The First Hostage (J. B. Collins Book 2) [SALE ITEM]
ISBN: 9781496406194
Weight: 0.45 kg
Description:
First Hostage, a J.B. Collins novel by Joel C. Rosenberg
Reporting from Jordan, journalist J.B. Collins finds himself the exclusive reporter for the story of the century – the President of the United States is missing and presumed kidnapped, while several other world leaders are gravely injured.  Handling this well could make his career!  That he and a few friends are suspected of orchestrating the plot and that his life is in imminent danger are just two tiny glitches in this otherwise golden opportunity – if he lives to publish his story!
Product Information
Title:

 

The First Hostage #2
By:

 

Joel C. Rosenberg
Format:

 

Paperback
Vendor:

 

Tyndale House
Publication Date:

 

2016
Dimensions:

 

1.00 X 1.00 X 1.00 (inches)

Weight:

 

1 pound 2 ounces
ISBN:

 

1496406192
ISBN-13:

 

9781496406194
Series:

 

J. B. Collins
Shipping and Delivery:
Products are shipped around 3-5 business days in Metro Manila, and 5-7 business days outside Metro Manila, upon payment confirmation.
Weekends and Holidays not included.
Related products