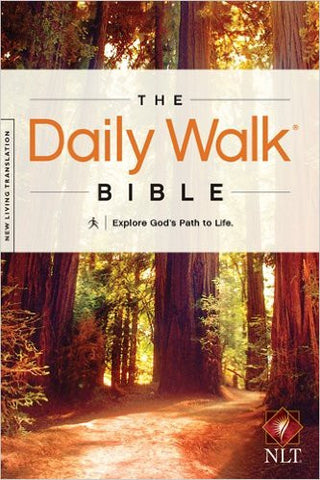 NLT The Daily Walk Bible (Softcover)
ISBN: 9781414380612
Weight: 1.0 kg
Description:
Take a walk. Change your world.
Reading through the Bible is difficult. The Daily Walk Bible will help you complete the journey. Drawing from the rich resources of Walk Thru the Bible's Daily Walk magazine, The Daily Walk Bible offers a simple daily reading plan and tools to help you complete the journey and see how the Bible fits together.

Each day's reading includes an overview to give you a bird's-eye view of the day's reading, several chapters from the Bible, an Insight offering an interesting fact from the day's reading, and My Daily Walk―a short devotion to help you reflect on and apply a specific insight from the day's reading.

Every seventh day offers a pause on the journey as you are invited to Look Back over the readings from the previous week, Look Up to God, and Look Ahead to the reading to come. This edition features the clear and understandable New Living Translation.
Title: The Daily Walk Bible, NLT Softcover
Format: Paperback
Number of Pages: 1494
Vendor: Tyndale House
Dimensions: 9 X 6 X 1.25 (inches)
Weight: 2 pounds 3 ounces
ISBN: 1414380615
ISBN-13: 9781414380612
Text Layout: Double Column
Text Color: Black Letter
Text Size: 8 Point
Thumb Index: No
Ribbon Marker: No
Spine: Glued
Page Gilding: None
Page Edges: White
Stock No: WW438061
Imprintable: Yes
Shipping and Delivery:
Products are shipped around 3-5 business days in Metro Manila, and 5-7 business days outside Metro Manila, upon payment confirmation.
Weekends and Holidays not included.