The Case for the Real Jesus Student Edition: A Journalist Investigates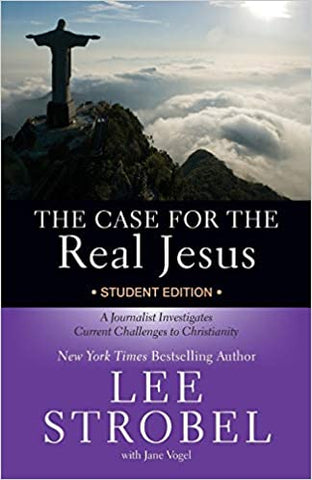 The Case for the Real Jesus Student Edition: A Journalist Investigates Current Challenges to Christianity (Case for … Series for Students)
ISBN: 9780310745679
Weight: 0.17 kg
Description:
There's proof a man named Jesus of Nazareth once walked the earth, but opinions on exactly who he was can vary widely. Was he really the Son of God, or was he a nice guy who did some positive things on earth, or was he possibly an unstable man? And how can you know for sure what is true and what is false when it comes to what you've read or been told? Lee Strobel decided to investigate the real, historical Jesus and gather irrefutable evidence on everything connected to him so you can discover the biblical truth for yourself.
A great prophet. A rebel. The Messiah. A crazy lunatic. Someone who never existed at all. All of these phrases describe different people's views of Jesus, and various ancient documents have been discovered and various books have been written by scholars that seem to support each version. Not to mention all the arguments that say the Bible can't be trusted as a reliable source of information on Jesus. So what are you supposed to believe—and why?
Lee Strobel wanted the provable, undeniable truth, so he decided to return to the investigation he began in The Case for Christ and explore a variety of new angles to find out once and for all who the real Jesus was. Inside are interviews with numerous biblical scholars and once-zealous doubters about the most common arguments against Jesus, discussions of how reliable Scripture really is, examinations of unearthed ancient texts that appear to counter the gospels, and the evidence that shows who Jesus really was and continues to be in our world. Explore the case for yourself and decide: Is the real Jesus the one the Bible has proclaimed all along?
The Case for the Real Jesus Student Edition:
Presents the arguments for and against who Jesus is that teens and young adults thirteen and up often ask and encounter so they can see the real facts
Uses logic and solid information to examine why Christians believe what they do
Can be used in the classroom, in group studies, or as part of a religious studies or comparison class
Contains infographics and charts to make the concepts clear
Pairs well with

 

The Case for Christ Student Edition, The Case for a Creator Student Edition,

 

The Case for Faith Student Edition, and

 

The Case for Miracles Student Edition
Shipping and Delivery:
Products are shipped around 3-5 business days in Metro Manila, and 5-7 business days outside Metro Manila, upon payment confirmation.
Weekends and Holidays not included.