The Case for the Psalms: Why They Are Essential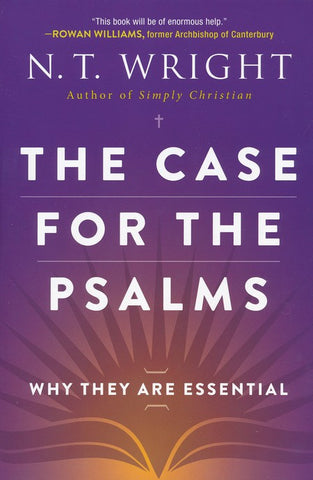 The Case for the Psalms: Why They Are Essential
ISBN: 9780062230515
Weight: 0.14 kg
Description:
Now in Paperback
One of the world's most trust Bible scholars, N.T. Wright, in
The Case for the Psalms
turns his attention to the Hebrew book of prayers.
The book of Psalms, the book of prayers Jesus and Paul knew best, have served as the central hymnbook for the church since its inception--until today. As such, Wright calls us to return to the Psalms as a steady, vital component of healthy Christian living.
Reading, studying, and praying the Psalms is God's means for teaching us what it means to be human:
how to express our emotions and yearning
how to reconcile anger and compassion
how to see our story in God's sweeping narrative
Wright provides the tools for understanding and incorporating these crucial verses into our own lives. His conclusion is simple: all Christians need to read, pray, sing, and live the Psalms.
Title:

 

The Case for the Psalms: Why They Are Essential
By:

 

N.T. Wright
Format:

 

Paperback
Number of Pages:

 

208
Vendor:

 

HarperCollins
Publication Date:

 

2016

Dimensions:

 

8.00 X 5.31 (inches)
Weight:

 

5 ounces
ISBN:

 

0062230514
ISBN-13:

 

9780062230515
Stock No:

 

WW230516
Shipping and Delivery:
Products are shipped around 3-5 business days in Metro Manila, and 5-7 business days outside Metro Manila, upon payment confirmation.
Weekends and Holidays not included.