The Alternative: Awaken Your Dream, Unite Your Community, and Live in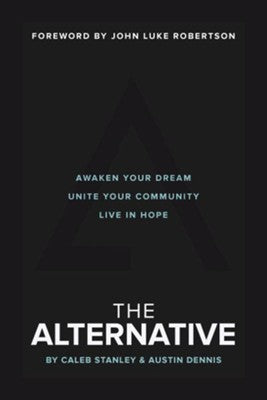 The Alternative: Awaken Your Dream, Unite Your Community, and Live in Hope (SALE ITEM)
ISBN: 9780310765882
Weight: 0.44 kg
Description:
The Alternative
focuses on the big issues in life: friendship, dating, anxiety, self-esteem, faith, and the future---to name a few. Caleb Stanley and Austin Dennis bring together inspirational voices such as Jefferson Bethke, Cole and Savannah LaBrant, Chelsea Crockett, and more to tackle touch issues with honesty and humor. In addition to advice and real-world anecdotes, this book is packed with mini-essays, Q&As, and devotions from today's best-known faith leaders. Recommended for ages 13 years and older.
Product Information
Title:

 

The Alternative
By:

 

Cabel Stanley, Austin Dennis
Format:

 

Paperback
Number of Pages:

 

272
Vendor:

 

Zondervan
Publication Date:

 

2019

Dimensions:

 

7.17 X 4.71 (inches)
Weight:

 

14 ounces
ISBN:

 

0310765889
ISBN-13:

 

9780310765882
Shipping and Delivery:
Products are shipped around 3-5 business days in Metro Manila, and 5-7 business days outside Metro Manila, upon payment confirmation.
Weekends and Holidays not included.