The 9 Arts of Spiritual Conversations: Walking Alongside People Who Be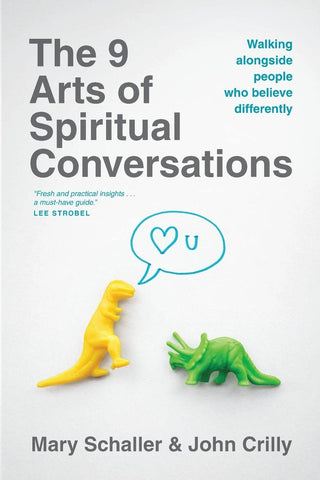 The 9 Arts of Spiritual Conversations: Walking Alongside People Who Believe Differently (OM)
ISBN: 9781496405760
Weight: 0.3 kg
Description:
Product Description
If you've ever felt uncomfortable talking about your faith with people who believe differently--you're not alone. But it is possible to engage in open and honest spiritual conversations...without awkwardness! Jesus did this effectively, and when you learn from him, so can you.

When you look at the life and ministry of Jesus, you'll see nine different ways in which he engaged with people. These practices, or "arts," are skills you can learn that will naturally deepen your connections with others. When spiritual conversations become an everyday reality, you'll have a front-row seat as God changes people's lives.
Product Information

Title: The 9 Arts of Spiritual Conversations: Walking Alongside People Who Believe Differently
By: John Crilly, Mary Schaller
Format: Paperback
Number of Pages: 256
Vendor: Tyndale House
Publication Date: 2016
Dimensions: 8.25 X 5.50 (inches)
Weight: 10 ounces
ISBN: 1496405765
ISBN-13: 9781496405760
Shipping and Delivery:
Products are shipped around 3-5 business days in Metro Manila, and 5-7 business days outside Metro Manila, upon payment confirmation.
Weekends and Holidays not included.