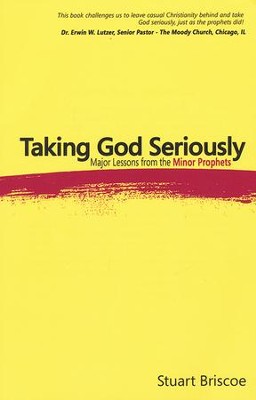 Taking God Seriously: Major Lessons from the Minor Prophets (SALE ITEM)
ISBN: 9781619580787
Weight: 0.19 kg
Description:
*DISCLAIMER: Please note that this is a sale item and may have some slight dents, faded and folded paper and cover.
It can be hard to pronounce the names of the Minor Prophets much less understand the issues they wrote about. With their talk of judgements upon obscure cities, strange imagery and sometimes cryptic language, it can be tempting to assume that the twelve books at the end of the Old Testament really aren't important for Christians. In
Taking God Seriously
, seasoned pastor Stuart Briscoe challenges this notion as he examines each of the Minor Prophets, providing both helpful historical context, and demonstrating the relevance of each prophet's message to believers today.
The Faithfulness of God HOSEA
The Day of the Lord JOEL
Hearing What God Has to Say AMOS
The Kingdom Will Be the Lord s OBADIAH
The Kindness of God JONAH
What Does the Lord Require of You? MICAH
God is Good and Angry NAHUM
God s Ways Are Not Our Ways HABAKKUK
God s Tough and Tender Love ZEPHANIAH
Fear God and Nothing Else HAGGAI
The God Who Makes Things Happen ZECHARIAH
The God Who Does Not Change MALACHI
Product Information
Title:

 

Taking God Seriously: Major Lessons from the Minor Prophets
By:

 

Stuart Briscoe
Format:

 

Paperback
Number of Pages:

 

208
Vendor:

 

CLC Publications
Publication Date:

 

2013

Dimensions:

 

8.00 X 5.25 (inches)
Weight:

 

7 ounces
ISBN:

 

1619580780
ISBN-13:

 

9781619580787
Shipping and Delivery:
Products are shipped around 3-5 business days in Metro Manila, and 5-7 business days outside Metro Manila, upon payment confirmation.
Weekends and Holidays not included.