Shotgun Angels: My Story of Broken Roads and Unshakeable Hope (SALE IT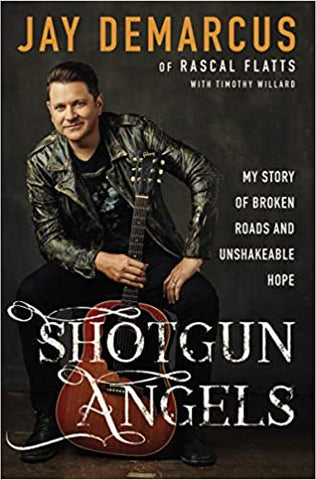 Shotgun Angels: My Story of Broken Roads and Unshakeable Hope (SALE ITEM)
ISBN: 9780310355038
Weight: 0.38 kg
Description:
*DISCLAIMER: Please note that this is a sale item and may have some slight dents, faded and folded paper and cover.
From one of America's most successful and beloved country music artists, Rascal Flatts's Jay DeMarcus, Shotgun Angels reveals the untold stories of his journey and will rally your own courage to find hope where you least expect it.

From his humble beginnings in Ohio, to the spark of early fame in Nashville, to a fair share of surprises and setbacks, Jay has learned firsthand that the blessing only comes through the broken road. Shotgun Angels details his path to celebrated heights, as well as the hope instilled in him at a young age that started it all - a hope that sustained him when it looked like his music career was over, and continues to fuel him today.

With no shortage of humor, heart, and off-the-cuff candor, Jay gives readers a backstage pass to the story behind the music and the musician. You'll follow his intensely personal journey through big breaks and broken dreams, desperate dashboard prayers, and limelight glories. Along the way, you'll find the same constant source of strength that he has - hope that is powerful enough to hold you up through whatever trials come your way.
Shipping and Delivery:
Products are shipped around 3-5 business days in Metro Manila, and 5-7 business days outside Metro Manila, upon payment confirmation.
Weekends and Holidays not included.