Searching for God Knows What (SALE ITEM)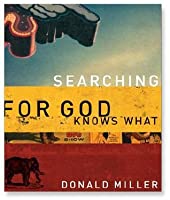 Searching for God Knows What (SALE ITEM)
ISBN: 9780785263715
Weight: 0.261 kg
Description:
*DISCLAIMER: Please note that this is a sale item and may have some slight imperfections
In Searching for God Knows What, best-selling author Donald Miller invites you to reconnect with a faith worth believing. With humor, intelligence, and his trademark writing style, he shows that  relationship is God's way of leading us to redemption. And our need for redemption drives us to relationship with God. "Being a Christian," Miller writes, "is more like falling in love than understanding a series of ideas."
Maybe you are a Christian wondering what faith you signed up for. Or maybe you don't believe anything and are daring someone―anyone―to show you a genuine example of authentic faith. Somewhere beyond the self-help formulas, fancy marketing, and easy promises there is a life-changing experience with God waiting. Searching for God Knows What weaves together beautiful stories and fresh perspectives on the Bible to show one man's journey to find it.
"Like a shaken snow globe, Donald Miller's newest collection of essays creates a swirl of ideas about the Christian life that eventually crystallize into a lovely landscape . . . [He] is one of the evangelical book market's most creative writers." ―Christianity Today
"If you have felt that Jesus is someone you respect and admire―but Christianity is something that repels you―Searching for God Knows What will give you hope that you still can follow Jesus and be part of a church without the trappings of organized religion." ―Dan Kimball Author of The Emerging Church and Pastor of Vintage Faith Church, Santa Cruz, CA
"For fans of Blue Like Jazz, I doubt you will be disappointed. Donald Miller writes with the wit and vulnerability that you expect. He perfectly illustrates important themes in a genuine and humorous manner . . . For those who would be reading Miller for the first time, this would be a great start." ―Relevant
Shipping and Delivery:
Products are shipped around 3-5 business days in Metro Manila, and 5-7 business days outside Metro Manila, upon payment confirmation.
Weekends and Holidays not included.