Refreshing Words for Busy Women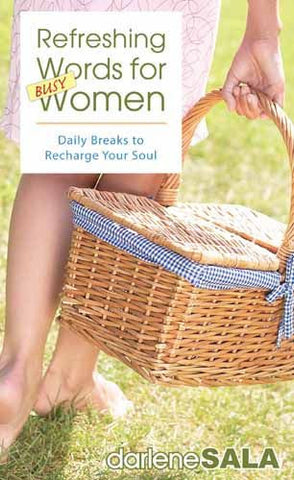 Refreshing Words for Busy Women
ISBN: 9789710495849
Weight: 0.37 kg
Description:
Escaping the platitudes and avoiding the "just trust" admonitions, bestselling author and popular speaker Darlene Sala speaks to on-the-go women, offering real-life advice and solutions for issues they face constantly, including:
feeling overwhelmed by schedules and responsibilities (Peter walked on water…until he took his focus off Jesus)
handling guilt over missing morning devotions (employ "continuous" strategies: praying while preparing meals, talking with God on the way to meetings, praising Jesus while watching the kids).
dealing with uncomfortable and awkward situations (Jesus reached out to the poor, the down-trodden, the ill, and the outcasts with love and compassion)
Sit down with Darlene, enjoy a cup of refreshing hope, and relax in the companionship of someone who knows what real life is…and who will help you discover more about the only way to true peace and joy daily—Jesus Christ.
Shipping and Delivery:
Products are shipped around 3-5 business days in Metro Manila, and 5-7 business days outside Metro Manila, upon payment confirmation.
Weekends and Holidays not included.