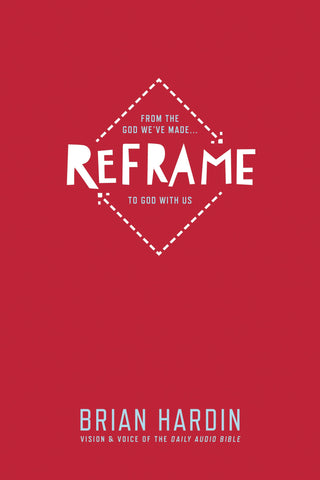 Reframe (SALE ITEM)
ISBN: 9781631464478
Weight: 0.204 kg
Description:
*DISCLAIMER: Please note that this is a sale item and may have some slight dents, faded and folded paper and cover.
Accomplished recording producer Brian Hardin experienced a mediocre Christian faith until one day, he purposed to read the Bible daily. His resolve led to the start of the Daily Audio Bible, which after eight years has had more than 55 million downloads and feeds hundreds of thousands of listeners each day.

In the process of reading the Bible to his growing audience every day without fail, he has made a true, real friend in Jesus. Not a "Hey God, I know You're up there somewhere" type of relationship, but one that contains the emotions, dialogue, and intimate moments that we long for from our closest of comrades. Brian found it necessary to entirely reframe his perception of God into a relationship as real as any experienced here on earth.

Reframe challenges you to change your paradigm about your relationship and connection with God, because, in truth, you are engineered so that life will not work without Him. Reframe invites you to reconsider life and what it might look like if you were ruined for anything else but a life-giving connection to the almighty God.
Shipping and Delivery:
Products are shipped around 3-5 business days in Metro Manila, and 5-7 business days outside Metro Manila, upon payment confirmation.
Weekends and Holidays not included.