Rediscovering Jonah: The Secret of God's Mercy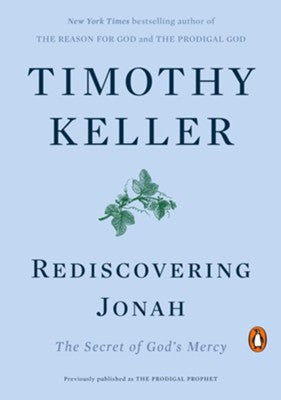 Rediscovering Jonah: The Secret of God's Mercy
ISBN: 9780735222076
Weight: 0.23 kg
Description:
Nearly everybody knows the story of Jonah---the reluctant prophet who is swallowed by a whale. But the second half of the book---and its meaning---is usually overlooked. Keller restates the urgent message found there---that we must listen to God's call even when it takes us to uncomfortable places and people that we would rather avoid. Originally titled The Prodigal Prophet. 272 pages, softcover from Penguin.
Product Information
Title: Rediscovering Jonah: The Secret of God's Mercy
By: Timothy Keller
Format: Paperback
Number of Pages: 272
Vendor: Penguin Books
Publication Date: 2020

Dimensions: 7.13 X 5 (inches)
Weight: 8 ounces
ISBN: 073522207X
ISBN-13: 9780735222076
Shipping and Delivery:
Products are shipped around 3-5 business days in Metro Manila, and 5-7 business days outside Metro Manila, upon payment confirmation.
Weekends and Holidays not included.