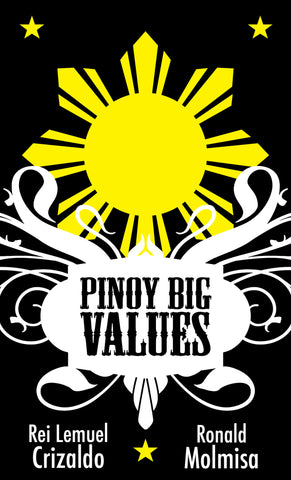 Pinoy Big Values
ISBN: 9789710092963
Weight: 0.11 kg
Description:
(Note: This book is written in conversational Tagalog-English) 

How Pinoy R U?
If you were born in one of the 7,107 islands of the Pearl of the Orient, you are Pinoy. Even if you were raised in a different country but your parents are certified Fiipinos, you can be considered kin to Jose Rizal and Manny Pacquiao. But what makes a Filipino truly Pinoy? What are the distinct values that characterize us as a people? Ronald Molmisa and Rei Lemuel Crizaldo joined forces to explain the mechanics of being a true Filipino — in mind, in word, and in deed. And all these spring from the heart.
Shipping and Delivery:
Products are shipped around 3-5 business days in Metro Manila, and 5-7 business days outside Metro Manila, upon payment confirmation.
Weekends and Holidays not included.