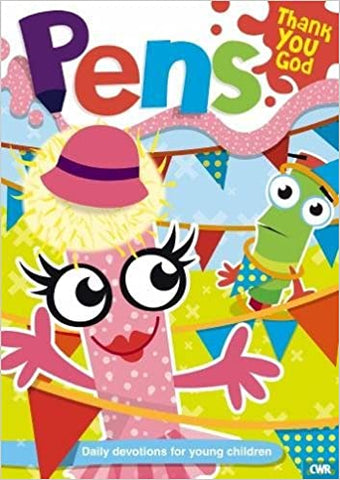 Pens: Thank You God (SALE ITEM)
ISBN: 9781853456336
Weight: 0.14 kg
Description:
*DISCLAIMER: Please note that this is a sale item and may have some slight dents, faded and folded paper and cover.
These imaginatively illustrated, undated, daily Bible-reading notes for 3- to 6-year-olds feature our new googly-eyed Pens characters based on pens, pencils and other things that make life colorful. The Pens Gloria Glitter Pen, Denzil the Pencil, Charlotte Chalk, Marco Marker, Splodge, Squiggle and a whole host of others bring the Bible to life with stories from Scripture and from the Pens' own experiences, combined with insightful comments. Related questions and simple prayers apply the readings to daily life. Creative and fun for parents and grandparents to use, Pens will help preschool children learn to enjoy daily Bible reading and develop a love for God's Word. Written in four sections, two focusing on the lives of Pens and two on Bible characters, these undated, 30-day devotionals will teach young children more about God and His Word. In this edition, we see that we can be thankful to God for the all the little blessings He showers upon us each day, and for the big blessing of being part of His family. We follow the Pens' everyday lives and think about everyday things we can be thankful for, such as food, clothes, and homes to live in; 'The Man Who Made Jesus Happy Saying thank you matters': the story of Jesus healing ten men with a skin disease and the one who came back to say thank you, 'God's Family': all those who love God as their heavenly Father can look after each other and help each other live for God, 'The Selfish Son: A forgiving father': through the story of the prodigal son, we learn about God's love, kindness,
Shipping and Delivery:
Products are shipped around 3-5 business days in Metro Manila, and 5-7 business days outside Metro Manila, upon payment confirmation.
Weekends and Holidays not included.