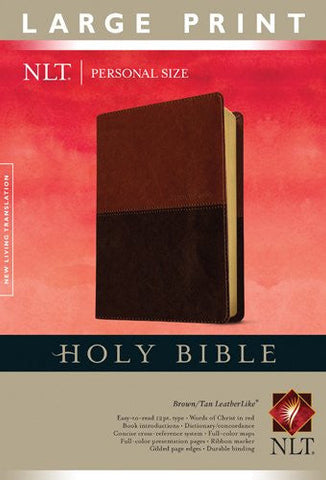 NLT Personal Size Bible Large Print (Imitation Leather, Brown/Tan)
Description:
Large 12-point font in a personal-size binding makes this Bible easy to read and carry. Now available in a new attractive TuTone design for women. Deluxe features include red letter, dictionary/concordance, ribbon marker, full-color maps, a presentation page, book introductions, and gilded page edges.


The New Living Translation is an authoritative Bible translation, rendered faithfully into today's English from the ancient texts by 90 leading Bible scholars. The NLT's scholarship and clarity breathe life into even the most difficult-to-understand Bible passages―but even more powerful are stories of how people's lives are changing as the words speak directly to their hearts. That's why we call it "The Truth Made Clear."
Product Dimensions: 6.3 x 1.8 x 9.1 inches
Shipping and Delivery:
Products are shipped around 3-5 business days in Metro Manila, and 5-7 business days outside Metro Manila, upon payment confirmation.
Weekends and Holidays not included.