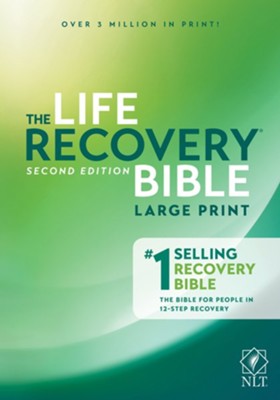 NLT Life Recovery Bible, Large Print
ISBN: 9781496427571
Weight: 1.42 kg
Description:
The
 

Life Recovery Bible 25th Anniversary Edition

 

points to God himself as the primary source of recovery. Millions of people have been helped by this Bible. New articles provide a fresh perspective on recovery. Help for leaders is provided in a general facilitator's guide and a step-by-step meeting guide. These resources offer help to anyone starting or running recovery groups at church or in the community.

Features:
New Inspirational Preface
Four Helpful Articles on Overcoming Addiction
Life Recovery Facilitator's Guide
Step-by-Step Life Recovery Meeting Guide
The 12 Christian Foundations of Life Recovery
The 12 Self-Evident Truths of Life Recovery
Resources page, directing readers to helpful books and online resources
Title:

 

NLT Life Recovery Bible, Large Print
By:

 

Stephen Arterburn, David Stoop
Format:

 

Paperback
Vendor:

 

Tyndale House
Publication Date:

 

2017
Dimensions:

 

10.75 X 7.50 X 1.75 (inches)
Weight:

 

3 pounds 14 ounces
ISBN-13:

 

9781496427571

Text Color:

 

Black Letter
Text Size:

 

10.5 Point
Thumb Index:

 

No
Ribbon Marker:

 

No
Spine:

 

Glued
Page Gilding:

 

None
Page Edges:

 

White
Shipping and Delivery:
Products are shipped around 3-5 business days in Metro Manila, and 5-7 business days outside Metro Manila, upon payment confirmation.
Weekends and Holidays not included.
Related products