New Bible Commentary, 21st Century Edition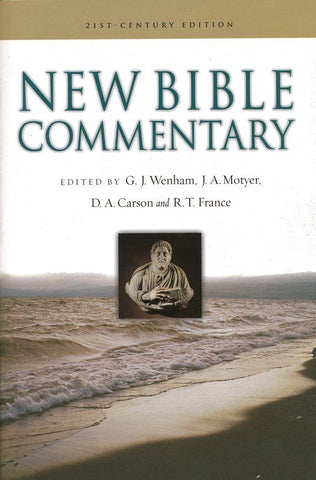 New Bible Commentary, 21st Century Edition
ISBN: 9780830814428
Weight: 2.0 kg
Description:
For 40 years, the New Bible Commentary has set the standard for works of its kind. Now in this completely revised fourth edition (including over 80% new and updated material), the best one-volume commentary is now even better.
This readable and accessible volume brings together many of the finest scholars of our day to meet the needs of students, teachers and Bible readers. The 21st-century edition of the New Bible Commentary offers 66 solid, concise, evangelical commentaries---one on each book of the Bible. These detailed (passage-by-passage or verse-by-verse) commentaries, based on the NIV text, are accompanied by introductory material on date, authorship, purpose, key themes, outlines and discussions of recent developments in biblical scholarship, along with numerous maps, diagrams, and tables. In addition, seven new introductory articles have been added which overview biblical history and types of biblical literature:

Approaching the Bible (D.A. Carson)
Biblical History (Gordon McConville)
The Pentateuch (Gordon Wenham)
Poetry in the Bible (Philip Jensen)
Apocrypha and Apocalyptic (Roger Beckwith)
Reading the Gospels (R.T. France)
Reading the Epistles (D.A. Carson)
Contributors include: T. Desmond Alexander, George R. Beasley-Murray, D.A. Carson, Richard T. France, Donald Guthrie, Gordon P. Hugenberger, Philip A. Jensen, J.A. Motyer, Moisés Silva, Douglas Stuart, Gordon J. Wenham, and others. Overview of the New Bible Commentary: 21st Century Edition:
Theologically moderate/conservative
Non-technical (no knowledge of Hebrew, Greek or Aramaic needed)
For laypeople and teachers
Uses the New International Version (NIV) Bible as its English base
Product Information
Title: New Bible Commentary, 21st Century Edition

Format: Hardcover
Number of Pages: 1455
Vendor: InterVarsity Press
Publication Date: 1994
Dimensions: 9.50 X 6.25 X 2.50 (inches)
Weight: 4 pounds 4 ounces
ISBN: 0830814426
ISBN-13: 9780830814428
Shipping and Delivery:
Products are shipped around 3-5 business days in Metro Manila, and 5-7 business days outside Metro Manila, upon payment confirmation.
Weekends and Holidays not included.