My Friend is Struggling with... Thoughts of Suicide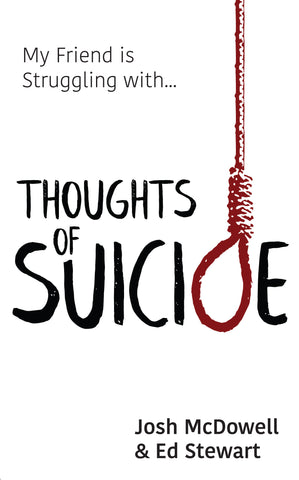 My Friend is Struggling with... Thoughts of Suicide
ISBN: 9789710098255
Weight: 0.1 kg
Description:
Sixteen-year-old Kevin Colvin, burdened by his parents' fighting, the recent death of his best friend, and slipping grades, despairs that he's just "a waste of space on this planet." Is this a passing thought or is he about to seriously contemplate suicide?
Do you know any young persons like Kevin who are caught in the downward emotional spiral of disappointment to discouragement to despair? What can you say or do to help? What do they need most right now? Perhaps now, more than any other time in their lives, they need a friend who "is always loyal and a brother [and sister who] is born to help in time of need" (Proverbs 17:17).
Through the aid of a gripping true-to-life story, Josh McDowell and Ed Stewart offer biblical insights and practical instruction on what your friend can do when plagued with passing thoughts of ending it all. But more importantly, you will discover how to become a true source of help and encouragement to lift him or her from discouragement and despair. This book is designed for you to read first and then give to your friend.
And if you are that person struggling with despair, you can learn how to find that light at the end of the dark tunnel you seem to be in. For you will discover how important you are to God and to those around you, especially to the friend who gave you this book.
Shipping and Delivery:
Products are shipped around 3-5 business days in Metro Manila, and 5-7 business days outside Metro Manila, upon payment confirmation.
Weekends and Holidays not included.