Love Me Anyway: How God's Perfect Love Fills Our Deepest Longing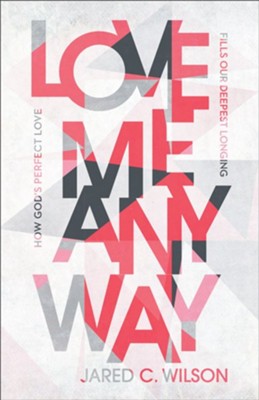 Love Me Anyway: How God's Perfect Love Fills Our Deepest Longing
ISBN: 9781540901347
Weight: 0.36 kg
Description:
When our extravagant God puts a desire into our souls, he also intends to fill it! The deepest longing we experience is for love---lavish, unconditional, unearned, undeserved, "in spite of" love. Wilson shows us how we can find it as he unpacks 1 Corinthians 13 through engaging stories, tender anecdotes, gentle reflections, and a touch of humor. 256 pages, softcover from Baker.
Product Information
Title: Love Me Anyway: How God's Perfect Love Fills Our Deepest Longing
By: Jared C. Wilson
Format: Paperback
Number of Pages: 224
Vendor: Baker Books
Publication Date: 2021

Dimensions: 8.50 X 5.50 (inches)
Weight: 13 ounces
ISBN: 1540901343
ISBN-13: 9781540901347
Shipping and Delivery:
Products are shipped around 3-5 business days in Metro Manila, and 5-7 business days outside Metro Manila, upon payment confirmation.
Weekends and Holidays not included.
Related products