Life: An Obsessively Grateful, Undone by Jesus, Genuinely Happy, and N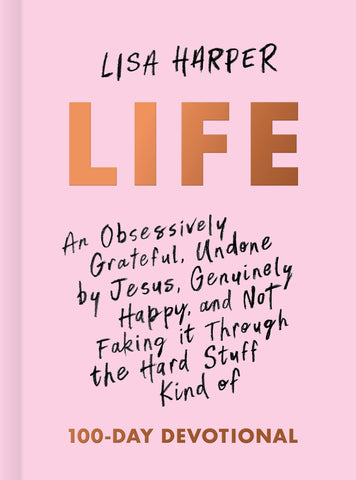 Life: An Obsessively Grateful, Undone by Jesus, Genuinely Happy, and Not Faking it Through the Hard Stuff Kind of Devotional (OM)
ISBN: 9781433691959
Weight: 0.4 kg
Description:
Product Description
With a hefty dose of humor and lots of honesty, Harper shows you the gospel really is good news, even in our most difficult, nonsensical, and crazy moments! Nothing---not one thing---is too big or too small to bring before God. Whether it's a worldwide crisis or a bad day, see what Life has to say to you. 208 pages, hardcover from B&H.
Product Information
Title: Life: An Obsessively Grateful, Undone by Jesus, Genuinely Happy, and Not Faking it Through the Hard Stuff Kind of Devotional
By: Lisa Harper
Format: Hardcover
Number of Pages: 240
Vendor: B&H Books
Publication Date: 2021
Dimensions: 8.50 X 5.50 X 0.55 (inches)
Weight: 14 ounces
ISBN: 1433691957
ISBN-13: 9781433691959
Shipping and Delivery:
Products are shipped around 3-5 business days in Metro Manila, and 5-7 business days outside Metro Manila, upon payment confirmation.
Weekends and Holidays not included.