Immerse: Kingdoms (Paperback) [SALE ITEM]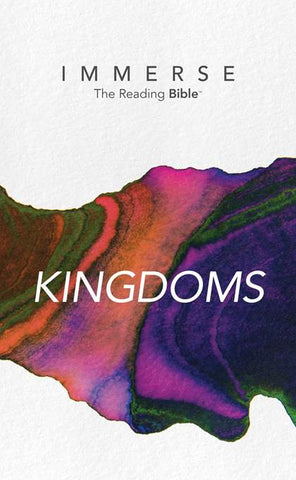 Immerse: Kingdoms (Paperback) [SALE ITEM]
ISBN: 9781496424150
Weight: 0.295 kg
Description:
*DISCLAIMER: Please note that this is a sale item and may have some slight dents, stains, faded and folded paper and cover.
Kingdoms is the third installment of the six volumes of Immerse: The Bible Reading Experience program. Kingdoms tells the story of Israel from the time of its conquest of Canaan (Joshua) through its struggle to settle the land (Judges, Ruth) and the establishment of Israel's kingdom, which ends in a forced exile (Samuel–Kings). The nation of Israel, commissioned to be God's light to the nations, falls to division and then foreign conquest for rejecting God's rule.

Kingdoms delivers Scripture to the reader as it was originally created: without chapter or verse breaks. While references are made available for ease of finding specific Scripture references, those references do not appear within the actual text of Scripture. This makes for uninterrupted reading of God's Word. Created with the look and feel of a paperback book, and written using the Holy Bible, New Living Translation, the most readable translation available, Kingdoms enables you to easily read and understand the Bible.
Shipping and Delivery:
Products are shipped around 3-5 business days in Metro Manila, and 5-7 business days outside Metro Manila, upon payment confirmation.
Weekends and Holidays not included.