How to Study the Bible, Paperback (OM)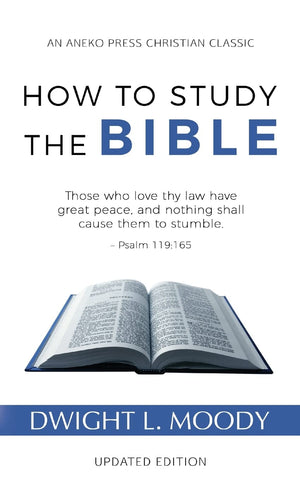 How to Study the Bible, Paperback (OM)
ISBN: 9781622454563
Weight: 0.17 kg
Description:
Product Description
I will never forget thy precepts; for with them thou hast caused me to live. (Psalm 119:93)

There is no situation in life for which you cannot find some word of consolation in Scripture. If you are in affliction, if you are in adversity and trial, there is a promise for you. In joy and sorrow, in health and in sickness, in poverty and in riches, in every condition of life, God has a promise stored up in His Word for you.

This classic book by Dwight L. Moody brings to light the necessity of studying the Scriptures, presents methods which help stimulate excitement for the Scriptures, and offers tools to help you comprehend the difficult passages in the Scriptures. To live a victorious Christian life, you must read and understand what God is saying to you. Moody is a master of using stories to illustrate what he is saying, and you will be both inspired and convicted to pursue truth from the pages of God's Word.

Title:

 

How to Study the Bible, Edition 0002 Updated
By:

 

Dwight L. Moody
Format:

 

Paperback
Number of Pages:

 

168
Vendor:

 

Aneko Press
Publication Date:

 

2017

Dimensions:

 

7.99 X 5.00 X 0.36 (inches)
Weight:

 

6 ounces
ISBN:

 

1622454561
ISBN-13:

 

9781622454563
Stock No:

 

WW454569
Shipping and Delivery:
Products are shipped around 3-5 business days in Metro Manila, and 5-7 business days outside Metro Manila, upon payment confirmation.
Weekends and Holidays not included.
Related products