Enough About Me: The Unexpected Power of Selflessness (OM)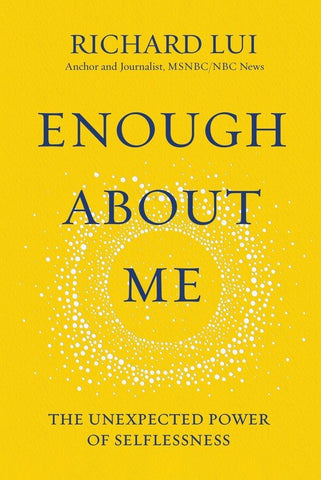 Enough About Me: The Unexpected Power of Selflessness (OM)
ISBN: 9780310362395
Weight: 0.4 kg
Description:
Product Description
Enough About Me equips you with practical tools to find meaning and compassion in even the smallest of everyday choices.

What if your path to a more successful, healthy, and satisfying life is actually not about you?

When his father was diagnosed with Alzheimer's disease, Richard Lui did something tough. The award-winning news anchor decided to set aside his growing career to care for family. Selflessness, however, did not come easily. So, Richard set out to explore why he struggled.

In every decision, big and small, Lui discovered hidden opportunities to put others ahead of himself. Similar to training physical muscles, we must train our decision-making muscles to choose others over ourselves in order to have unexpected smiles and renewed balance in our lives.

From a journalist's point of view, he digs into and shares stories from his seven-year "selfless" exploration. Lui shares practical tips, tools, and mnemonics learned along the way to help shift the way we think and live:

Selfless decision methods and practices for work, home, relationships, and community
Studies and research which show the personal benefits of being selfless
A pragmatic debate on whether selflessness is even possible
Practical, bite-sized ways to be selfless
Entertaining and shareable stories to inspire you to selflessness
Lui ultimately shares how small choices toward selflessness are not a compromise, but instead a way to a more satisfying life. Choice by choice, step by step, the path to a more satisfying and fulfilling journey is right here in the people around us.
Product Information
Title: Enough About Me: The Unexpected Power of Selflessness
By: Richard Lui
Format: Hardcover
Number of Pages: 240
Vendor: Zondervan Trade Books
Publication Date: 2021
Dimensions: 9.030 X 6.600 (inches)
Weight: 15 ounces
ISBN: 0310362393
ISBN-13: 9780310362395
Shipping and Delivery:
Products are shipped around 3-5 business days in Metro Manila, and 5-7 business days outside Metro Manila, upon payment confirmation.
Weekends and Holidays not included.